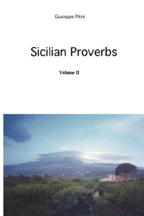 Sicilian Proverbs Volume III.
A paperback edition in Sicilian and English. By Arthur V. Dieli

Sicilian Proverbs Volume III (Giuseppe Pitrč 1841-1916) is an English translation of Pitrč's third of four volumes in the series Proverbi Siciliani / Sicilian Proverbs. They are part of a twenty-five volume collection of Sicilian folklore. Volume III contains more than 3500 Sicilian proverbs organized into twenty chapters. Each proverb is displayed in its original Sicilian, followed immediately by its English translation. The chapters include: LV, Weather, Seasons, Times of the Year, LVI, Life's Miseries, Human Conditions, LVII, Death, LVIII, Move to Another City, Travel, LIX, Different Natures,LX, Peoples, Countries, Cities, LXI, Pride, Vanity, Conceit, LXII, Obstinacy, Flexibility, LXIII, Sloth, Industry, Work, LXIV, Speaking, Keeping Silent, LXV, Fear, Meanness of heart, Courage, Ardor, LXVI, Patience, Resignation, LXVII, Poverty, Wealth, LXVIII, Integrity, Honor LXIX, Prudence, Sagacity, Rashness, Light Heartedness,LXX, Rules for Judging,LXXI, Rules of Behavior and Conversation,LXXII, Religion.LXXIII, Deliberation, Consideration, Time,LXXIV, Resolve, Promptness, Seize the Occasions. .

Volume III is available from Amazon in paperback and in a Kindle edition on or abaut Dec 15, 2018.